DIY Home Made Cleaners [Infographic]
Top 20 Home Made Cleaning Products
Every one of us loves our homes to be clean. We use all kinds of detergents, soaps, polishers, and special cleaning products for each part of our home. These cleaning products are also created with different scents to fit the likes of any consumer. However, these cleaning products are not entirely safe or us or the environment.
In fact, cleaning products are some of the most toxic chemicals. Just because we do not put them inside of us, after cleaning with them the chemicals are left on the surfaces and evaporate through the air of the whole house. In these ways, dangerous chemicals seep into your body. Not to mention that it is very dangerous for young children and pets that can accidentally swallow them.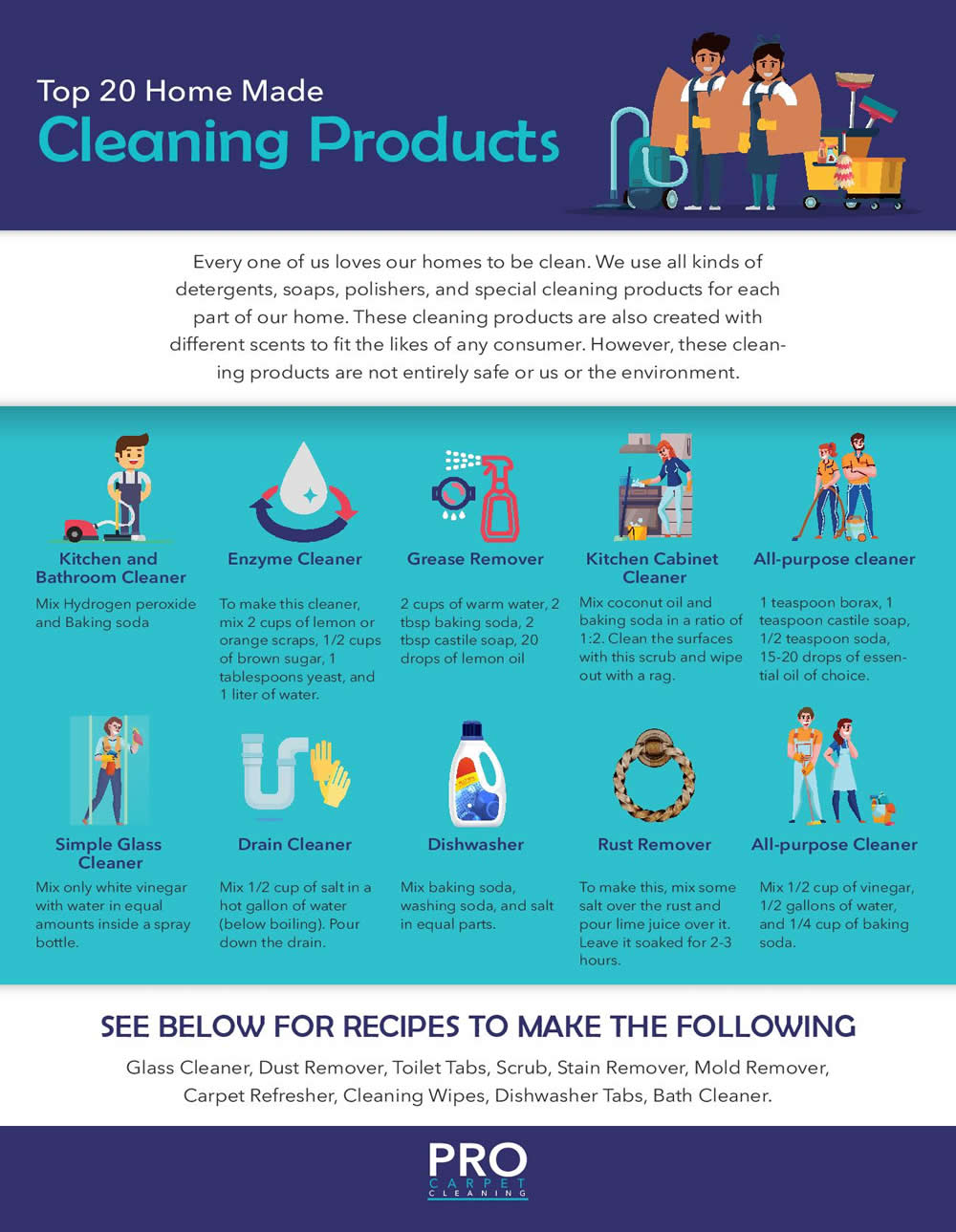 Home Made Cleaners
The better solution is to make your own cleaners that can polish your home without the dangerous side effects of industrial cleaners. Here they are.
Kitchen and Bathroom Cleaner
The kitchen and bathroom are the toughest places to clean because of the dirt and oils that get stuck between the creases. For this you will need:
Hydrogen peroxide
Baking soda
Mix the baking soda and hydrogen peroxide in a bowl. Use gloves to apply this mixture to dirty places.
Cleaning Wipes
Cleaning wipes can be made of:
1 cup of water
1/4 cup of rubbing alcohol
2 tbsp ammonia
2 tbsp dish soap
Place cleaning rags in a jar and pour the mixture over them. Close the jar, and use the rags whenever you need to wipe things at home.
Dishwasher Tabs
You will need:
2 cups baking soda
2 cups borax
1/2 cup salt
1/2 cup vinegar
10-20 drops of essential oil (lemon)
Place the mixture in an ice cube tray and let them dry for 24 hours somewhere where it is warm and sunny.
Bath Cleaner
For this mixture, mix Dawn soap and white vinegar in equal proportions. Heat the mixture in the microwave and pour in a spray bottle. Spray on your bathtub or bath and let it sit for 30 minutes before rinsing.
Enzyme Cleaner
To make this cleaner, mix 2 cups of lemon or orange scraps, 1/2 cups of brown sugar, 1 tablespoons yeast, and 1 liter of water in a plastic bottle. Mix the ingredients, and leave it for 2 weeks to ferment in a slightly open bottle so that it doesn't explode.
Grease Remover
This mixture is good for the places around the stove and in the oven. You will need:
2 cups of warm water
2 tbsp baking soda
 Castile soap (2tbsp)
20 drops of lemon oil
Mix it all in a spray bottle. Use on greasy surfaces.
Kitchen Cabinet Cleaner
For this, you will need to mix coconut oil and baking soda in a ratio of 1:2. Clean the surfaces with this scrub and wipe out with a rag.
Dust Remover
This is one of the most useful cleaners that is always needed. To make it, you will need:
1 cup water
1/4 cup of vinegar
2 teaspoons olive oil
10-14 drops of lemon essential oil
Spray bottle
Pour all the ingredients and mix them well in the spray bottle.
All-purpose cleaner
Sometimes you just need something universal to have handy whenever you need it. This universal spray is made with:
1 teaspoon borax
1 teaspoon castile soap
1/2 teaspoon soda
15-20 drops of essential oil of choice
Pour all the ingredients in a glass spray bottle. Mix well and use whenever needed.
Glass Cleaner
This cleaner is excellent for glasses and mirrors. Use:
1/2 liter of water
1/2 cup ammonia
1 tsp dish soap
16 ounes rubbing alcohol
Mix all of this in a spray bottle.
Simple Glass Cleaner
If you want something even more simple for your glasses, you can mix only white vinegar with water in equal amounts inside a spray bottle.
Toilet Tabs
To prepare toilet cleaning tabs you will need:
1 cup baking soda
1/4 cup citric acid
1/2 teaspoon vinegar
1 tablespoon hydrogen peroxide
essenail oil of chocie
baking sheet
parchment paper
A tablespoon
Mix the citric acid and baking soda in a container. In a separate one, mix the hydrogen peroxide and vinegar. Slowly pour the second mixture into the first one. Add the essential oil. Scoop this mixture into balls and place them on the parchment paper. If the tabs are crumbling, spray some vinegar on top of them. Let them completely dry on the parchment paper.
Scrub
To clean out hard spots, you will need to mix half a lemon with 1/2 cup of borax. Use the mixture to scrub tough stains and avoid using it on soft surfaces like granite or marble.
Stain Remover
If you are dealing with a tough spot on your clothes, you can mix 1 gallon of hot water with 1 tablespoon baking soda, 4 tablespoons Thieves dish soap, and 8 tablespoons hydrogen peroxide. Apply the mixture on the stain for 15 minutes before washing.
Mold Remover
Mix one part of 3% hydrogen peroxide with two parts water. Use a spray bottle to distribute it over the mold. Leave it for an hour before washing.
Carpet Refresher
Mix 10-20 drops of essential oil of choice in a cup of baking soda. Apply it on the carpet, and let it sit for a couple of hours before vacuuming it.
Drain Cleaner
Mix 1/2 cup of salt in a hot gallon of water (below boiling). Pour down the drain.
Dishwasher
Mix baking soda, washing soda, and salt in equal parts.
Rust Remover
To make this, mix some salt over the rust and pour lime juice over it. Leave it soaked for 2-3 hours
All-purpose Cleaner
Mix 1/2 cup of vinegar, 1/2 gallons of water, and 1/4 cup of baking soda.
Choosing a Safe Cleaning Alternative
While there are still more ecological cleaning products that you can find on the market and you can make informed consumer choices, it is much less expensive and rewarding to make your own cleaning products. This will make your home look both amazing and be safe for you and the environment. If you have comments please visit www.procarpetcleaningsydney.com.au we would love to hear your feedback.